Can you imagine a growing user community or more customers for your online business?

We fulfill your imagination with elegant, affordable, custom web apps designed to give you an edge, a profit, and a glory.

If You Can Imagine It, We Can Do It.
Advanced Website Development Project Leadership
CGI Pro is a full-service agency for web-based projects of any size. We provide an integrated, strategic approach to media, creative, and Web Development that generates great results, and in many cases serves as a complete technical and product development department for web-based startups and sales organizations. Our multi-tiered approach to developing sites that work intuitively for users, administrators and parties in between is a strength to any organization. Our multi-media mindset creates results that work for video, text, SEO, e-commerce, the mobile web, podcasts, cellecasts and more.
Emergency Service Webmastery and Value Recovery
In addition to new development, many independent business owners come to us to economically upgrade existing sites and web aplications, bringing them up to date to web 2.0 standards and enhanced marketability. This has earned us the reputation of website physicians, fixing up sites that others would only recommend writing off as a loss.
Recent Video Update
IE9 just launched today (3/15/2011) and we are particularly excited about the improvements made to support robust HTML5. They say they built it from the ground up, so that means IE should no longer be behind, but in front of the curve of standards and performance.
Be wary of installing it yourself just yet. The reviews on the transition for all but techies has been less than stellar.
Work Order System
We Prioritize Value
While most firms underbid jobs and outsource programming overseas, CGI Pro understands your online business goals and partners with your success.
No one can beat the comprehensive experience and value we provide:
Services. A full suite of personalized online services from consultation to development to hosting to a savvy, customized marketing solution. We enable your business imagination to become realized online.
Support. Direct, personal consultation with our principals for the most intelligent response possible. Call, text or email for immediate, unscreened attention.
Terms. We offer a variety of creative financing options, including monthly retainers and co-venturing arrangements.
Ease of use. Our Work Order System, like the tools we build for you, gives you a one-stop menu for managing your projects, domains and accounts with us.
Safety. Our standard practices keep your site up with 99.999% reliability. Multi-location data backup is always included.
Maintenance. Ongoing maintenence programs for all marketing, content management, site enhancements are included.
Utility. Functional tools that will customize your site content on many platforms and media. We built our own highly flexible web application framework that creates
Featured Site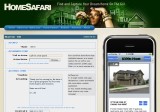 Home Safari will hopefully be launched in the next 90 days. We would like people to test it now and find their new Pacific Northwest home in the process. Find, capture and share the home of your dreams on your
mobile smartphone with Home Safari