Web-enabling the world of business
Think BIG!
Here are a few samples of public sites we have worked on recently. Imagine how we can apply the needed broad and fine strokes of engineering and design to get your project to the top of this list.

If you can imagine it, we can do it., as we have done it for scores of others.
CGI Pro's Portfolio of Work
CelleCast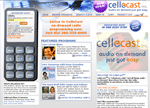 CelleCast
®
is "cell phone radio" and all things audio -- on demand. Hear shows from top-tier radio personalities on any phone, at any time, from anywhere.
CGI Pro created a site that enables users to subscribe, create custom playlists and purchase securely online. The site also features a world-class media management system that allows publishers and advertisers to manage their inventory and track listener statistics elegantly.
APPRAISERSdotCOM
Appraisers.com is a deep and complex paid inclusion directory of real estate appraisers from around the country. It was developed first in the 1990's as a simple CGI web app written in C. All the database files were flat, and the code was duplicated over and over again through the site. Nothing wrong with that, but the client, William Darden, wanted to streamline the operations and modernize the site, maintaining its leadership position in online searches. Appraisers.com still leads in the space, as the primary go-to directory for banks, realtors and the public to find local licensed appraisers, county by county.
We imported all the data over to MySql and improved the interfacing in numerous ways, including on the
appraiser application
, where the active counties are displayed via ajax, only in correlation to the states where an applicant has provided a valid license number. The admin interface maintains the original model with custom improvements and scalable solutions for future projects. Zip code searching and counties are tied together with an outside API to allow us to keep all the location data up to date on an automated basis.
Realty Pro

Realty Pro is the leading real estate portal for Clark County WA, with a highly functional website that needs regular updating to stay on top of it's game.
James Kimball, the owner of
Realty Pro in Vancouver WA
came us to us recently to take over the webmastering of the site and to add new features and effeciencies. With over 27 years experience on web applications, rolling up our sleeves and working with someone elses complex code was a welcome challenge. This job actually inspires me to take on the moniker of a web doctor, ready to revive an older patient that others would diagnose as terminal! Although the site is highly feature rich and elegantly written, making edits was inherently hard due to the multi-layered and multi-servered construction. We have added some cool social media tools for the 130+ realtors to use, and have overhauled the database and hosting situation so it loads fast and can scale with the vision of the owner.
The final piece in the current phase was to provide James with a real competitive advantage over other local Real Estate Brokers... Unmatched speed and accuracy in updating his sites MLS data. We combined all the two major Northwest MLS data into one database and maintain a fresh, accurate supply of listings that updates every 30 minutes, and verifies accuracy multiple times a day. The listing data is important, so we dont just get it and dump it, we curate it with care.
Simple Foodie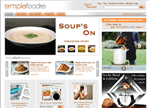 Simple Foodie is on the forward edge of recipe and cooking management. Poised to rival allrecipes.com in form and function, it features video, mobile tools, an ingredient finder and advanced ways to create and share recipes. Working with Simple Foodie management, our team is responsible for all the site's ground-breaking interactive functions from top to bottom.
We also created
an iPhone/Android web app for Simple Foodie
as well! Take a look at it today as framed in on our blog, or just visit SimpleFoodie.com on your webkit smartphone.
Las Vegas Tickets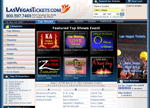 Las Vegas Tickets is the leading provider of premier seating for top-tier Las Vegas entertainment. CGI Pro delivered to them a much needed SEO-centric redesign in conjunction with a new ecommerce API. A Soap XML interface was created to enable real time data exchange with their partner, Ticket Technologies.
Our re-design efforts required many revisions to make sure their brand remained at the top of the list among many stand-outs. Making it to the top in Las Vegas is no easy task, and we are proud to have made that happen. One of our most challenging achievements indeed.
Superior Exterior Systems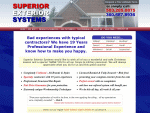 The Superior Exterior Systems company provided us with a unique challenge in developing a web site within a limited budget that is: functional, professional (matched their existing style) and required that site content be easily updated by them -- so they could keep up with their ever growing & changing market and product lines they offer.
CGI Productions achieved this by designing a site which reflected their existing collateral materials (ads in the phone book and sales materials) in both color, layout and feel while integrating our ez-button content management system for ease of updating and managment of the site text. All of this was achieved within their tight budget and deadline.
Read more in our blog post about this.
Weight Loss Health Pros

To build a site that supports a fluid marketing strategy requires a special arrangement and relationship between business owner and designer. Jonathan and I met a few times in the Summer of '09 as he was contemplating a few business ideas. He saw a need for a new kind of weight loss support system, and we both quickly knew that it would take a partnered approach for us to achieve his marketing needs. This website was built to provide Jonathan with maximum design and messging flexibility, as we knew his requirements were changing week to week.
Where others see this as a signal to stop and wait and burn months in design planning, we knew we could help Jonathan best by painting his online presence with the fluidity of his thought process. Our CMS was wordpress which provides an easy way to update copy and add articles. Our arrangement was on a monthly retainer, which allowed both of us to proceed within effective working boundaries, but more importantly provided Jonathan with a trouble-free experience knowing that everything needed for the site would be provided. CGI helped in branding, market positioning, and message continuity. Many more changes will come thorughout the fall of 09.
LocaSource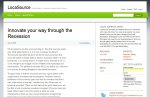 LocaSource. Crazy values for Portland-Vancouver from wise local experts!
CGI Productions is currently creating a new local portal for small business blogging. It fits a niche need on the internet right now between the large blogging and social network portals where businesses get lost, and the burdensome concept for any local business to take up blogging on their own. We create the local community authority for Vancouver and Portland, and our local experts build the authority on their areas of expertise! The consumer then has one place to go to find local experts to read and research while making buying decisions in this newly contracting economy.
Echo Learn
Echo Learn is a unique language tutoring website that can teach anyone to learn any language on their own terms. Users have access to lessons and quizzes in both audio and written formats on their computer, through email or a mobile device.
CGI Pro created a total application and marketing strategy for the client, enabling them to build a giant inventory of lessons in multiple languages and deliver them to a variety of consumer and language school clients worldwide. CGI delivered on all fronts and is working with client to launch in Japan and China as soon as some of the latest recessionary barriers are overcome.
Clark County GOP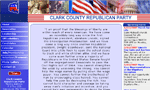 The GOP of Clark County, Washington needed a complete CRM solution to manage news and information to members within the county and for those wishing to stay informed. The functionality behind this site includes massmail management, event calendar, content management, and complete member management.
Home Tour Plus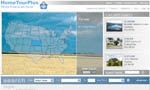 Home Tour Plus represents the cutting edge in pristine business web-enablement. Launched on January 20, 2004, This site carries not only the home portal site duties for consumers, but also supports all CRM functions for realtors, advertising partners, administrators, graphic artists and sales associates! Call us today to discuss how we can do the same for your business.
CGI Productions LLC
12000 Mill Plain Bl
Suite 200
MAP
Vancouver, WA 98684 360-213-7411
Contact Us Today
Just a few samples...
When it comes to presenting a portfolio for the kind of work we do, we can only go so deep using a page like this. Sure, you can see what the front-end functionality and design of our more prominent clients looks like, but what you will miss is the extensive work we do to make the secured admin and user areas unique and usable.

We build online apps that web-enable your organizational model. Our core competency lies here: To create a scalable solution that helps you successfully manage the experience of each type of visitor, partner and administrator on your domain. Let us create your new online workspace.